September 18- 2009:
Our world premiere was a big sucess, the Screenland has invited us back for 3 more shows. For those who missed the world premiere now is your chance to see it again.
We have three more shows booked.
Friday September 25, 7pm
Saturday September 26, 7pm
Sunday September 27, 7pm
Screenland Movie Theater
1656 Washington Street
Kansas City, Mo. 64108
Ticket Price: $8
To order tickets online please go to the Screenland web site: http://www.screenland.com
Facebook Event: http://www.facebook.com/event.php?eid=138193467866&ref=mf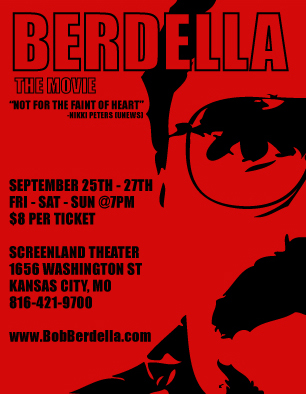 August 24- 2009:
Everything related to the movie has been blowing up. Been very busy promoting our World Premiere. Fox 4 just interviewed a detective from the Berdella case and they are going to include that in their interview with us. They haven't given us an actual date yet, but once we know it will be posted about 24 hours in advance on the web site, plus the facebook, twitter, and myspace pages.
RSVP for the Berdella premiere on Facebook, the event is almost sold out!
http://www.facebook.com/event.php?eid=119903851273&ref=mf
We have secured front page of the Rockhurst University newspaper, my alma mater. We'll have the photo spread and article available on the web site by the end of the week.