April 22- 2009:
It is official we have set our premiere date. Berdella will be premiering at the Screenland movie theater September 10th 2009. The movie is in its final stages of editing and we will be submitting it to numerous film festivals over the next several months. We just got Berdella business cards made, hopefully you'll come across these!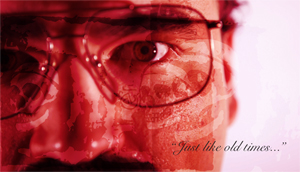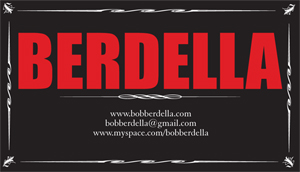 April 14- 2009:
One of our fans sent us this hand written letter that Bob wrote while in prison to one of the prison guards wife. The guard said he was pretty mental and was always writing notes like he was not in prison.
"Alex told me Bob was just plain nuts. He said he would write letters to the guards all the time. I don't really remember the reason for this note.  If I remember right he said he was in solitary confinement,so he only had contact with a few guards."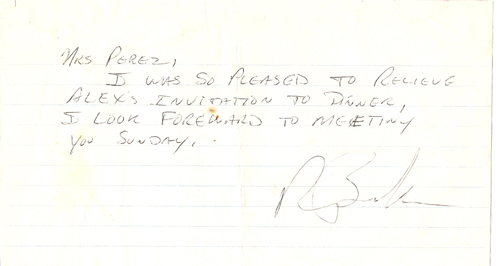 April 1- 2009:
We have discovered something very interesting online recently. A web site called http://www.findagrave.com. Apparently Bob Berdella is buried in the same grave as his parents, but his name is not written on the tombstone according to Find a Grave.
Robert Berdella Grave Memorial
March 25- 2009:
Today we have something special, an authentic-original Bob's Bazaar Bizarre t-shirt from the 1980s. We came into possession of the t-shirt and business card recently and it has become sort of a good luck charm for the promotion of the movie. Oddly enough the person we got the items from said it was cursed and he and the owner before him got bad luck from it…not us though!
March 19- 2009:
Many people have seen these flyers popping up around Kansas City, its our first Berdella flyer promoting our web site. In the next few months more and more advertisements will be seen throughout our great city.
March 18- 2009:
Last week we crossed paths with someone who had official Bazaar Bizarre merchandise. This person had no clue that we were making a movie about Bob Berdella but was eager to sell us his treasure. It was an original Bob's Bazaar Bizarre t-shirt from the 1980s, with official Berdella business card enclosed. We were finally able to shoot our business card stock, so that was nice. We'll add the t-shirt with next weeks update. For now enjoy this trip down memory lane.
March 11- 2009:
We just added a Berdella Flickr page, take a look at it.
http://www.flickr.com/photos/bobberdella
Did a major update to our Bob Berdella page, added more testimonials and added a Berdella timeline!
We're still editing the movie, working on sound effects, voice over work, and adding a few new scenes. Were on a deadline trying to get the movie done by late May so we can enter it into the Kansas International Film Festival, among others.
Our MySpace page has recently been re-designed.
March 3- 2009:
One of our web site visitors sent us this amazing photograph. Bob Berdella's high school photo!
If anyone has his business card we'd love to get a copy of it, and possibly use it in the movie!
Thanks to everyone whose been showing support for the movie by joining our Facebook group and frequenting the web site and watching our trailer. Crunch time is among us, were on deadline to get this movie done so we can submit to upcoming film festivals. Once we have our actual date set for our theatrical premiere we'll be adding a countdown feature that will countdown the days to the movie's debut.