September 18- 2009:
Our world premiere was a big sucess, the Screenland has invited us back for 3 more shows. For those who missed the world premiere now is your chance to see it again.
We have three more shows booked.
Friday September 25, 7pm
Saturday September 26, 7pm
Sunday September 27, 7pm
Screenland Movie Theater
1656 Washington Street
Kansas City, Mo. 64108
Ticket Price: $8
To order tickets online please go to the Screenland web site: http://www.screenland.com
Facebook Event: http://www.facebook.com/event.php?eid=138193467866&ref=mf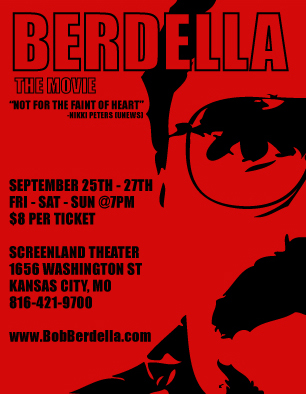 September 11- 2009:
Last night was amazing. I want to thank everyone who came out and supported our efforts. It was the greatest night of our lives. We sold out both shows, got featured on Fox 4, and entertained over 300 people. Keep checking out our web site, once we get our future showings booked we will list the dates on here. So if you missed the world premiere of Berdella last night, you still have many opportunities to see it on the big screen!
KC Star mentioned Berdella: http://www.kansascity.com/entertainment/movies/story/1433003.html
'Berdella' bash
The makers of "Berdella," a feature based on Kansas City's most notorious serial killer, are holding a bash tonight to celebrate their film.
"Berdella" will screen at 7 and 9 p.m. (the first show already is sold out) as part of a premiere party at the Screenland Crossroads that runs till midnight. Admission is $7.
Written and directed by KC locals Bill Taft and Paul South, the film stars Seth Correa as Bob Berdella, the Westport shop owner who in the 1980s kidnapped, tortured and killed six young men in his south Hyde Park home.
September 9- 2009:
We are one day away from the world premiere of Berdella. It is a very exciting time to see our work finally come to fruition. The 9pm showing is open to the public at a cost of $7 CASH ONLY.
If you are going to the 9pm please get there by 8:45 or earlier, there are no previews so the movie will start at 9pm!
Finally we have news regarding our Fox 4 interview. It will be airing tomorrow evening at 9pm and 10pm. If you are going to the Berdella World Premiere don't forget to DVR the news.
August 17- 2009:
Premiere Info:
The first screening of the movie is at 7pm, the second screening is at 9pm. The first screening is sold out but we're selling tickets to the second show. To get your tickets and be put on the list, please RSVP by emailing us or responding to the RSVP request on Facebook.
The Screenland has a cash bar and they serve alcohol! The banquet hall has been rented out we are having an after party to celebrate our hard work and the world premiere of Berdella, the strangest and bizarre film of the year.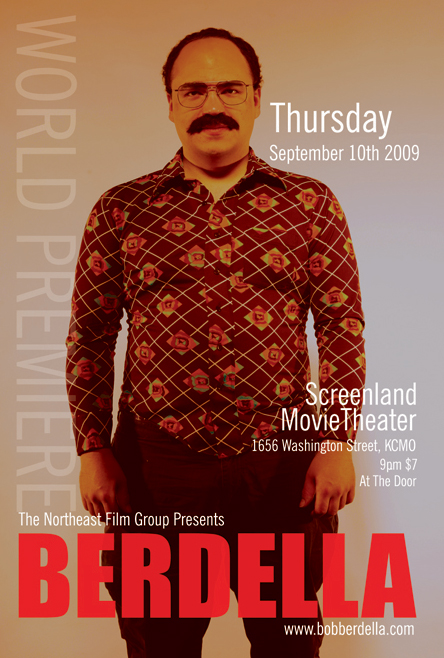 August 5- 2009:
Fox 4 News in Kansas City is doing a special on Berdella. They just interviewed us today and it will air later this week or early next week. Originally it was scheduled for this evening but they wanted to make it into a feature story. We'll let everyone know when it is scheduled to air.
The long awaited new and official Berdella trailer has just been launched.
Our premiere is set for Thursday night September 10, 2009 at the Screenland theater in the Crossroads KC at 1656 Washington, Kansas City, Mo. 64108. Tickets go on sale very soon, more information on ordering tickets will be available shortly.
Tony's Kansas City blogged about Berdella
http://www.tonyskansascity.com
http://www.tonyskansascity.com/2009/07/bobey-bob-berdella.html
and so did KC Photog Blog : http://kcphotogblog.blogspot.com/2009/07/dobey.html
April 22- 2009:
It is official we have set our premiere date. Berdella will be premiering at the Screenland movie theater September 10th 2009. The movie is in its final stages of editing and we will be submitting it to numerous film festivals over the next several months. We just got Berdella business cards made, hopefully you'll come across these!